Escort cards are a unique, creative way to direct your guests to their tables. The escort table is a fabulous opportunity to continue your theme. Each of your guests will approach this display, so be creative and give it some thought. Great displays have easy to find cards, great stationary, depth, texture and a fun base. As wedding planners we are often asked to come up with unique ideas, so we thought we would share some of our favorites.
Traditional Escort Card
Traditional Escort Card.
Create this one by making tent cards out of heavy stationary and then adding the guest name and table number with decorative paper.
Elegant Seating Chart & Table numbers. An Elegant option for Traditional placecards. Create this one by framing a poster with each guest and their table number listed. Then tie it together with an elegant table number and matching tent cards at each place setting.
Travel in Style
Destination Wedding. Traveling to Paris or some other wonderful place to say "I DO". Let these cute little pieces of luggage do double duty...not only do they show your guests to their seat but you can add a little trinkit inside and your guests can carry off with their wedding favor!
Beach Escort Card
Going to the Beach.
Play up a beach theme with these petite chaise lounges and parasols. Print guest names and table numbers onto decorative paper, and then cut out rectangles and curve them into lounge chairs (pull the paper back and forth along the edge of a table while holding it taut to achieve the wave). Then arrange them in a sand-filled tray, and adorn each seat with a bright umbrella
Votive Escort Card
Votive Escort Card.
Create this escort card byh putting each guests name and table number on a label and adhering to a glass votive holder and tie with a ribbon in your color theme. Light each one and arrange on a table alphabetically. When the votives are put on the table they add to the centerpiece.
Table Number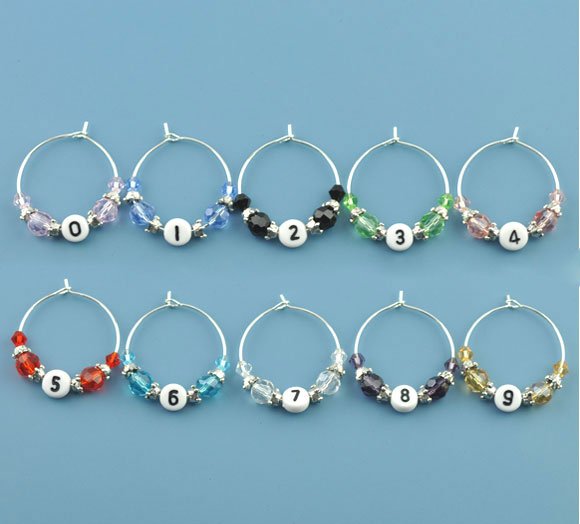 Escort Wine Charm
Wine bottle and Wine Charm Escort Card.
Create this escort card set by putting labels on wine bottles with the table number and make wine charms with correlating numbers. Attach a tag with each guests names to the wine charm and hook on each wine glass. Display by arranging on a table alphabetically.
Fun and Games.
Check out this unique escort card. A friend of ours was having a game-themed wedding reception so we asked Jennifer with Something Detailed to make this for them as as a gift from us. The game board was a "LIFE" game replica mapping out different events in each of the Bride & Groom's lives until the day they joined as one!
Whether you choose to go with Traditional or Themed, be creative and enjoy coming up with ideas together.